Contact persons:
Pedro Cambas
Domènec Campeny
Esteve Moya
Manel Planàs
Manuel Calavia
Contact persons:
Francesc Gubert
Manel Planàs
Contact persons:
Miquel Mestre
Manuel Calavia
Arnau Farré

Contact persons:
Miquel Mestre
Manuel Calavia
Arnau Farré

Contact persons:
Pedro Cambas
Avda. Diagonal 08008 Barcelona
Avda. Gran Vía Jaume I, 82, 2ª / 17001 Girona
Rambla Nova 2,
1-2, 43004 Tarragona
Avda. Roma 26, Edif. Coliseum 1, pl. 1 / 43840 Salou (Tarragona)
C/ Goya 15, 1º
28001 Madrid
presence of the firm in 2018
Since the beginning of its activity in Spain, ETL GLOBAL has been integrating prestigious professional offices throughout the Spanish territory to provide a full service and quality anywhere in the Iberian Peninsula. In addition, and thanks to the support of its international partner, any ETL GLOBAL office can meet your needs abroad.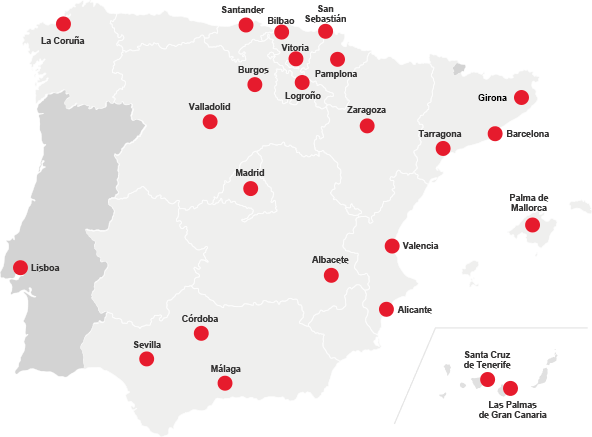 Use this tool to arrange a meeting with a professional or ask for a formal quote, with no obligation and no charge, to arrange our services.
Featured Services
Tax Advice
Fiscal Inspections and Resources
Legal-Mercantile Restructuring
Corporate and Real Estate Law
Family Law and Succession
Advantages of Family Business
E-mail

Responsible: ETL GLOBAL ADDIENS S.L.
Purpose: Collection of personal data to meet your request
Legitimization: Consent of the interested party
Recipients: No data will be transferred to third parties, except legal obligation
Rights: Access, rectify or delete data, as well as other rights, as explained in the additional information
DO YOU NEED THE SERVICES
OF AN ADVISOR?
Our experts will offer you the
best solution to your query…